Important News Updates


ENJOY OUR NEW WEB PAGES.
BE SURE TO SCROLL DOWN!

Email the Friends for more info: execdirec@wanamakerorgan.com

Thanks to all of you who made our Virtual Christmas Eve Concert a wonderful success! Particular praise goes to Jon Buchanan and Brad Shupinski, Curator Matt Taft, Macy's, and of course the incomparable Peter Richard Conte!~


Our Winter newsletter was mailed Nov. 16, and with it our every-member renewal materials. It will come as no surprise that the mails have been terribly slow, and it took as long as a month for many to receive their issue. At the top of this page is a link to safely renew online!



Listen to a Public Radio Tale of Two Pandemics—and the Wanamaker Organ—below!


Enjoy Macy's new virtual edition of its Philadelphia Christmas Light Show below!



Dickens Christmas Village may be visited by clicking below!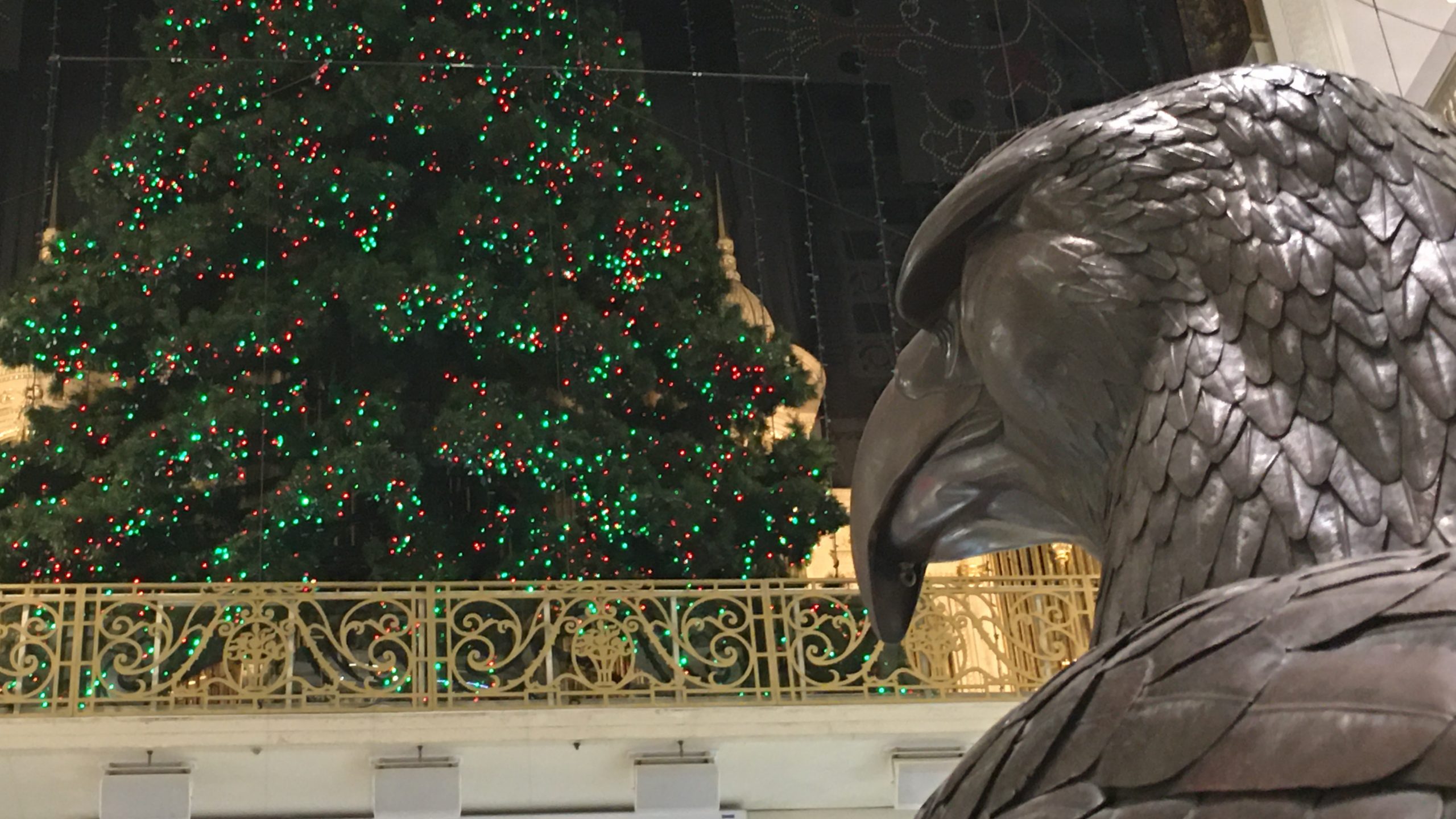 For emerging details on Christmas Light Show plans, check out our Macy's Light Show page from the menu at left. On recent visits, the entire show and tree were continuously  lit with character animations (but no show music) during the shopping day.
GOOD NEWS! Macys  has returned to the full complement of twice-daily concerts Monday November 2. 
Michael Barone's Pipedreams presents a Virtual Wanamaker Organ Day HERE!
Macy's reopened Friday June 12 at 11 am with the sound of music! Hallelujah! You can listen to "America the Beautiful" HERE!
A new Wanamaker Organ Day remains just a pipe dream for the moment, but retail historian Michael Lisicky pays tribute to it in FORBES HERE! A FORBES article on John Wanamaker and Macy's in times of pandemic by Lisicky is HERE.
CLICK ITEMS BELOW FOR A FREE WANAMAKER ORGAN VIRTUAL CONCERT AS WE SUPPORT THE ARTS IN THIS TIME OF ARTISTIC CRISIS!


Hear Peter Richard Conte play Moonlight Music from Richard Strauss's Capriccio HERE
Hear Thomas Murray play Mouret's Rondeau HERE
Hear Peter Richard Conte play the Scherzo from the Guilmant Sonata VIII HERE
Hear Thomas Murray play Grieg;s Anitra's Dance HERE
Hear Thomas Murray play Elgar's Imperial March HERE
Hear Peter Richard Conte and Philadelphia Orchestra Concertmaster David Kim in a Bach Duet HERE
Hear Conte and Kim in the Bach/Gounod Ave Maria in a presentation celebrating the artistic and musical legacy of Rodman Wanamaker, HERE
Conte and Kim play Fritz Kreisler's Preludium and Allegro HERE
And the duo play the Meditation from Thais by Massenet HERE
SPEND SOME QUALITY TIME CHECKING OUT OUR CD and DVD SAMPLER!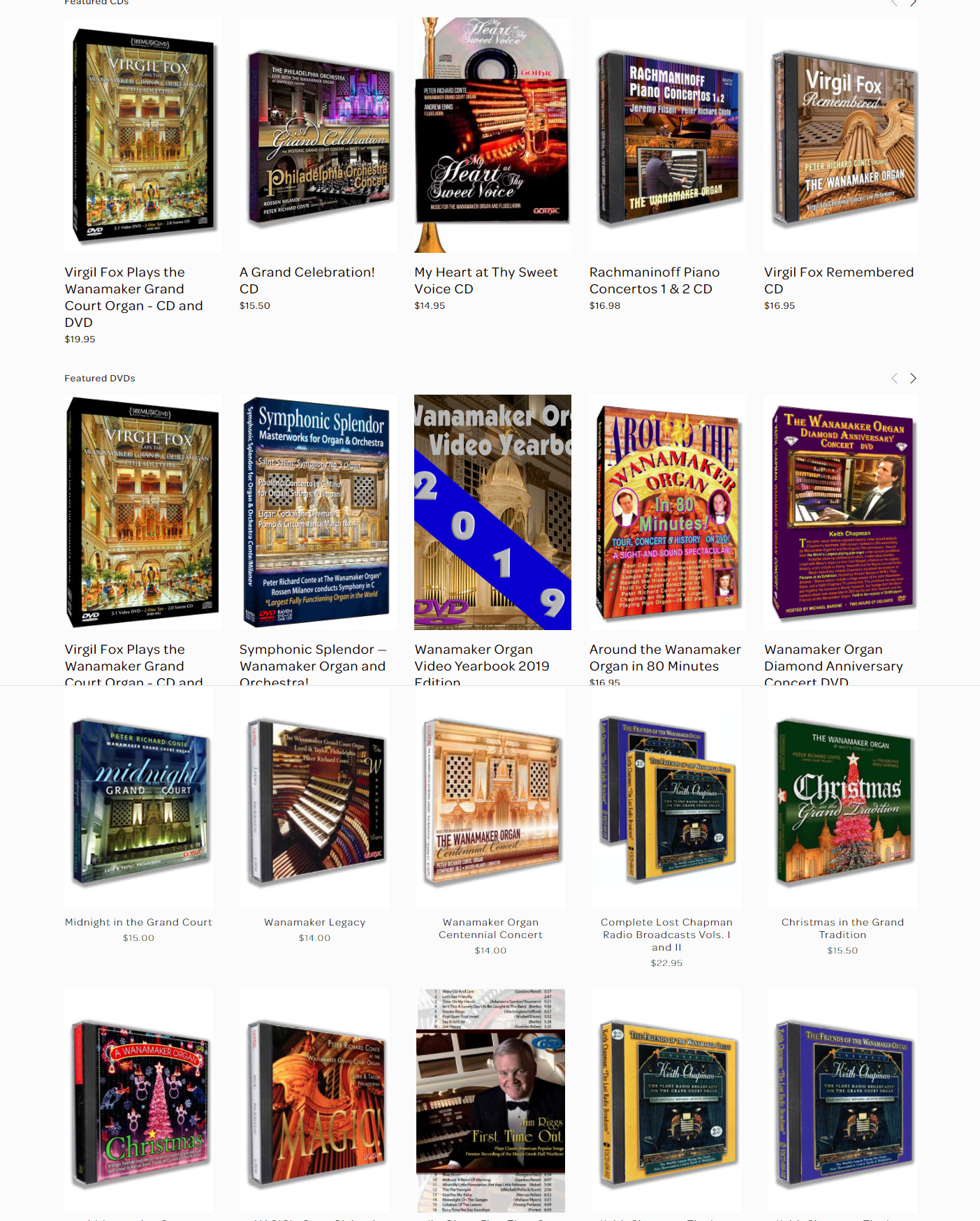 Enjoy scenes from our Around the Wanamaker Organ in 80 Minutes DVD HERE
Sample the Keith Chapman Diamond Anniversary Wanamaker Organ concertHERE
Explore the tonal resources of the Wanamaker Organ with our Sonic Odyssey Sampler HERE
Thrill to Rachmaninoff Concerto Samples for Organ and Piano HERE
Enjoy highlights from our Symphonic Splendor Organ and Orchestra CD DVD set HERE
Explore the Wanamaker Organ with our Curator's Tour starring Michael Barone and Curt Mangel, sampled HERE
All these titles are available for purchase and immediate shipping at our WEBSTORE.
ANNOUNCEMENT:  Scroll down to see our latest CD and DVD! Website features on store amenities such as the Visitor Center reflect pre-Coronavirus conditions that may not yet have been reinstated as the store gradually reopens.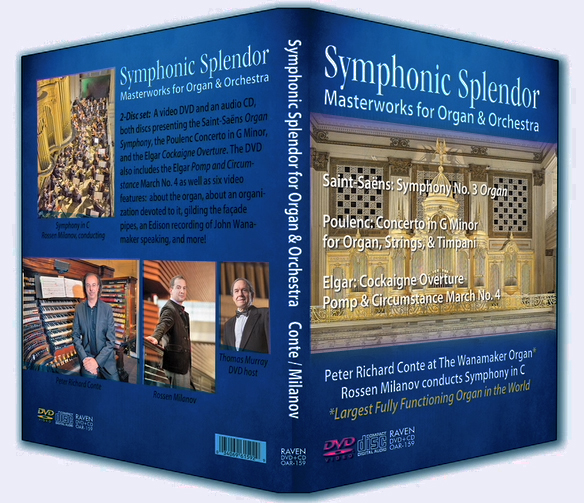 For those who have renewed, Premium Item A, our 2019 Video Yearbook,  and Premium Item J, Symphonic Spendor, have completed production and were mailed out March 27. Symphonic Splendor is available for purchase from the DVD section of our webstore, with immediate shipping! Don't miss this stupendous new production—enjoy the finest in Wanamaker Organ music with orchestra from the comfort of your own home! CLICK HERE TO SAMPLE  THE DVD!
An enticing selection of Wanamaker Organ CDs, DVDs and books is available for purchase at our webstore, with Immediate Shipping, and at the Macy's Info Desk on the First Floor, Market, at the entrance to the Grand Court. Visiting during the Holidays? Check out our Macy's Light Show feature from the menu at left!
SOME NOTES ON OUR NEW WEBSITE: We redesigned the website this summer and think it offers many improvements. At the same time, our webstore platform CoolCart went out of business in October and we moved to the SquareSpace platform. Many of you enjoy giving multiple gift subscriptions when you renew your membership, or like to give special amounts, and the new renewal platform varies slightly from the old one.
Getting to the point, if there is anything specific you would like to do when renewing and can't quite make it work out on the new renewal page, please feel free to give us a call at 484/684 7250 and we will be delighted to help you!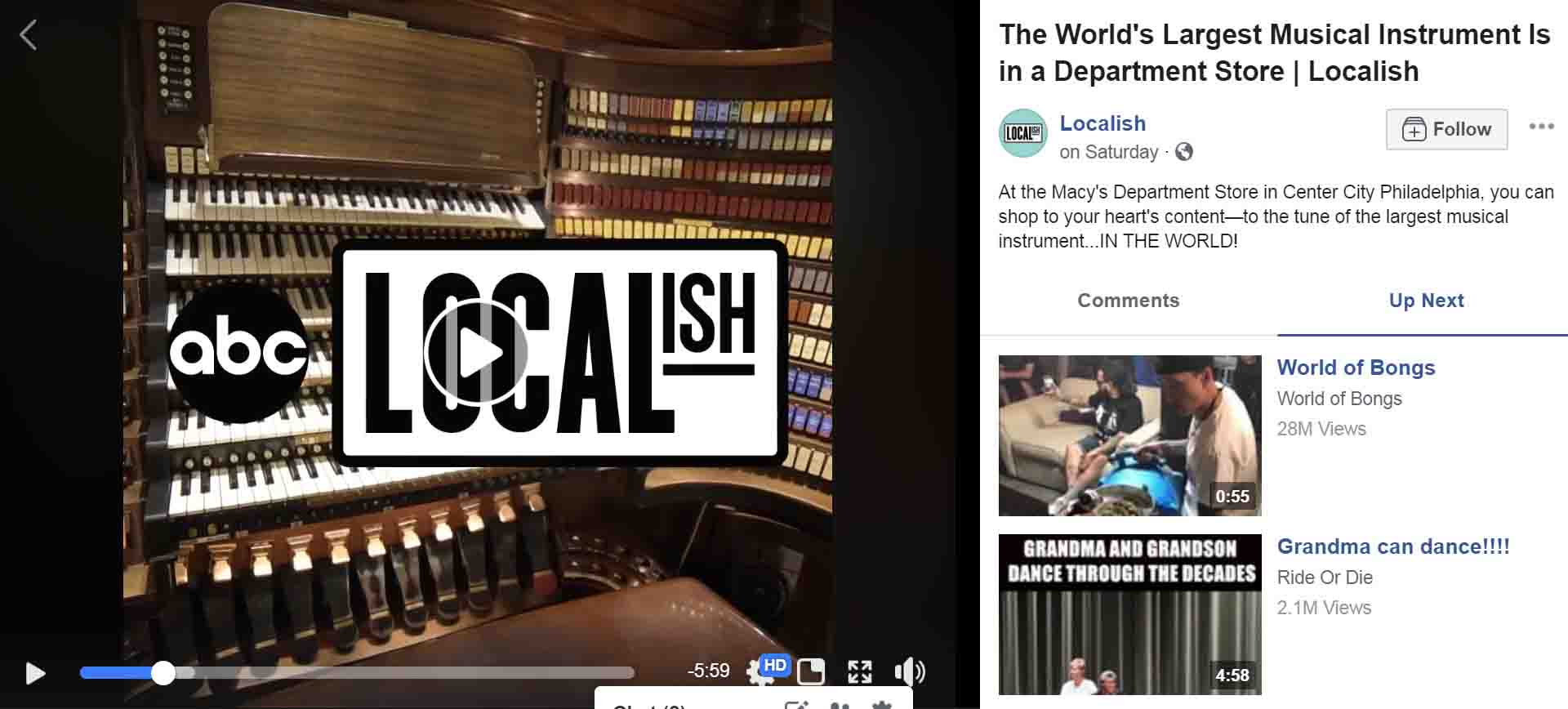 Watch a 6ABC tribute to the Wanamaker Organ by clicking  the box above!
Enjoy a Pipedreams Michael Stairs tribute featuring the Wanamaker Organ HERE!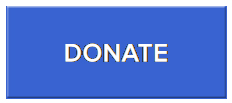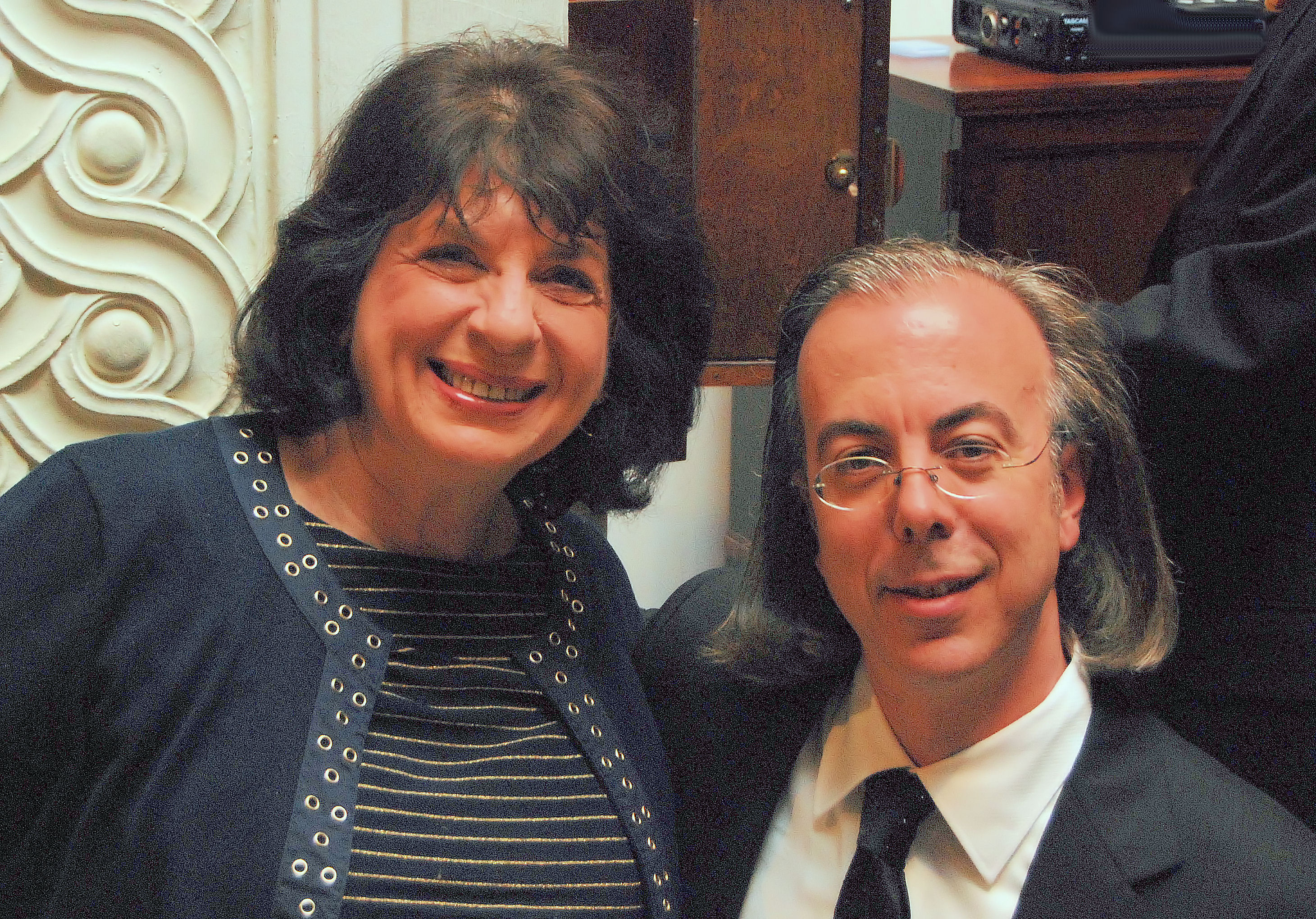 A wonderful archive of shows from the WRTI Wanamaker Organ Hour program is available HERE for your Internet listening pleasure! (You must open this post for the link to work.) The site is maintained by Julien Girard, a French aficionado now living in Quebec, with French-language names for the month of the original broadcast dates.