Macy's Christmas Light Show
A Philadelphia tradition since 1956
A source of awe and wonder for children of all ages



The Grand Court Spectacle of Lights and Music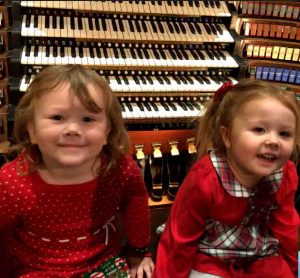 If past years are any guide, in 2019, Macy's Light Show should run from November 29 through December 31. Usually there is an event the Saturday before Thanksgiving featuring a Light Show preview with the Magic Christmas Tree, and an unveiling of the spectacular Market Street Windows. Macy's frequently displays a mailbox in the Grand Court for letters to St. Nick.
Daily Light Show Showtimes: 10 am, 12 pm, 2 pm, 4 pm, 6 pm, 8 pm. (In the past, on occasion, additional unscheduled shows have been presented when the Store became too congested. Good times for viewing are Monday through Thursday.) The Store is closed on Thanksgiving and on Christmas Day but open on New Year's Day.
Macy's DICKENS CHRISTMAS VILLAGE
Third Floor Holiday Lane (walk below the Magic Christmas Tree for up escalators. Elevators are on Market Street.) The redemption story of Ebenezer Scrooge runs the day after Thanksgiving through December 31 (Closed Christmas). Open daily: 10am-7pm. Viewers of the classic film Miracle on 34th Street will not be at all surprised that Macy's has a special relationship with a certain gentleman from the North Pole, and indeed Santa may be visited here through December 24.
Macy's Market Street Animated Christmas Windows
B

eautiful windows and holiday music grace the bustling Market Street street scene outside the Store.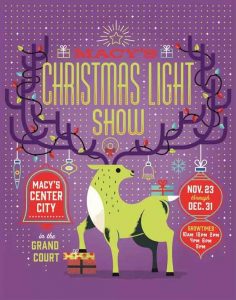 Macy's is located inside The Wanamaker Building at 13th & Market Streets, Philadelphia, PA 19107. Basic store Information is at 215-241-9000. There is parking underneath the Store with lot entrances on Juniper and 13th Streets. (Note that most weekdays the lot fills early with commuter parking, with more spaces opening in the early afternoon.)
PLANNING A LIGHT SHOW TRIP? BE SURE TO SCROLL DOWN FOR LOTS OF HELPFUL INFORMATION!
S

hoppers waiting for the next show will want to take in the Dickens Christmas Village on the Third Floor, Market Street, which is also free and is open on a continuous basis from 10 am. The Light Show itself lasts about eleven minutes. Buying Wanamaker Organ items from the Friends of the Wanamaker Organ webstore helps support the Organ as you fulfill your holiday gift list. Just click on the link below!Immediate Direct Shipping!


T
he Macy's presentations are the grandest of Philadelphia traditions, and many customers' Yule celebrations would not be complete without taking in the Delaware Valley spectacle.Macy's beautiful Market Street Windows, created by the Parade Studio, are also a special attraction. They are usually unveiled the Saturday before Thanksgiving.
At the Dickens Christmas Village (Third Floor Market Street) there is also a concession for photos with Santa (open through Christmas Eve), a studio to design a personalized teddy bear, and a Christmas gift shop ("Holiday Lane") nearby. There is covered public parking under the Wanamaker Building with elevators leading to Street Level.

THE WANAMAKER ORGAN is used for the finale of the noon Light Show (except Sundays), and at the end of the 6 pm Light Shows (except Wednesday, Friday and Sunday). Recorded Wanamaker Organ versions conclude the show at all other times.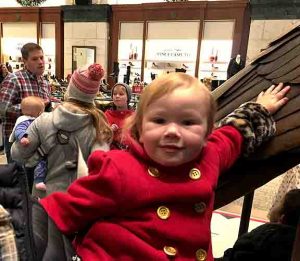 T
he Wanamaker Organ is played daily (except Sundays) at noon. It is also played on Monday, Tuesday, Thursday and Saturday at 5:30 pm, and each Wednesday and Friday at 7pm. Note: this is the regular yearly schedule. The Wednesday show is stream-cast live over YesterdayUSA.com, also accessible from the Tune-In smartphone APP.
Christmas Eve and New Year's Eve Alert
Christmas Eve Day and New Year's Eve day Wanamaker Organ concerts are generally cancelled due to potential curtailed store hours. The final daily light show on any given day might also not be held if it falls exactly at closing time.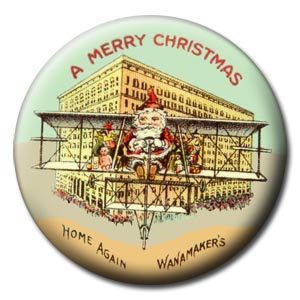 MEALS, LODGING, NEARBY ATTRACTIONS, TIPS AND OTHER USEFUL INFORMATION IS HERE. Covered parking is available under the Wanamaker Building, but additional options are here. Read the fascinating story of Bert Medland, father of the Magic Christmas Tree here. An annotated bibliography by Adrianna Riccioni tracing the history of the Light Show is here. Our Philadelphia Visitors Guide is here. Escalators are located [Read More]