Macy's Christmas Light Show
A Philadelphia Holiday Tradition since 1956


The Macy's Grand Court Pageant of Lights and Music


Macy's Christmas Light Show begins Black Friday and runs through Dec. 31! These were the showtimes during 2022. . .
Mon.-Thurs. | 4pm & 6pm

Fri.-Sun. | 10am, 12pm, 2pm, 4pm & 6pm

Sat. 12/24 | 10am, 12pm & 2pm
T

he 28,575-pipe Wanamaker Organ, the world's largest playing pipe organ, will be featured with the noon and 6 pm showings (except Sundays).
S

tore attractions may be enjoyed virtually year-round here!

D

ickens Christmas Village, detailing the timeless redemption story of stone-hearted Ebenezer Scrooge, is open this year by advance reservation from 11/25 (Black Friday) to 12/31. Official information is HERE. Starting 11/20 you can make a reservation five days in advance. Please note that Santa's last day is 12/24. The Dickens Village attraction may be enjoyed virtually clicking the icon above! If you visit during a slow time, it is always worth asking if you can be admitted to this attraction.
Macy's Market Street Animated Christmas Windows
Beautiful windows and holiday music grace the bustling Market Street street scene outside the Store. These attractions were put together (2022) under the supervision of Manuel Urquizo, Macy's Director of Campaigns and Windows, and were built by Square One Design. They were styled and lit by Macy's Center City Visual Merchandising, and are definitely worth a detour! The 2022 year's windows were featured from Black Friday  through New Year's Day. Animated toys pointed up some of the offerings available in the Toys "R" Us in-store shop at Macy's.


Macy's is located inside The Wanamaker Building at 13th & Market Streets, Philadelphia, PA 19107. Basic store Information is at 215-241-9000. There is parking underneath the Store, with lot entrances on Juniper and 13th Streets. 
PLANNING A LIGHT SHOW TRIP?  BE SURE TO SCROLL DOWN FOR  HELPFUL INFORMATION!
The Light Show itself lasts about eleven minutes. Buying Wanamaker Organ items from the Friends of the Wanamaker Organ webstore helps support the Organ as you fulfill your holiday gift list. Just click on the link below! Immediate Direct Shipping!

T

he Macy's presentations are the grandest of Philadelphia traditions, and many customers' Yule celebrations would not be complete without taking in the Delaware Valley spectacle.Macy's beautiful Market Street Windows, created by the Parade Studio, are also a special attraction. 

At the Dickens Christmas Village (Third Floor, Market Street) there is also a concession for photos with Santa (open through Christmas Eve) and a Christmas gift shop ("Holiday Lane") nearby. Macy's now hosts a Toys "R" Us secion on the Third Floor (13th Street Side) as well. Public bathrooms are located there. There is covered public parking under the Wanamaker Building, with a stairway, escalator and elevators, all along the Juniper Street side leading to Street Level. Enter the garage from Juniper Street (off City Hall Square) or from 13th Street headed north.

THE WANAMAKER ORGAN is used for the finale of any noon Light Shows (except Sundays), and at the end of any 6 pm Light Shows. Recorded Wanamaker Organ finales conclude the show at all other times.
I

n years when Macy's schedules the Wanamaker Organ with the Light Show, it features the Grand Finale ("Deck the Halls") of the Light Show, then the daily recital continues. Other Light Show endings feature a taped finale by the Wanamaker Organ. All Organ recitals are 45 minutes long. The majestic Wanamaker Organ is the largest playing pipe organ in the world and has 28,750 pipes. Through the Friends of the Wanamaker Organ and Macy's, several million dollars have been invested in the Organ's matchless sound during an active, ongoing restoration.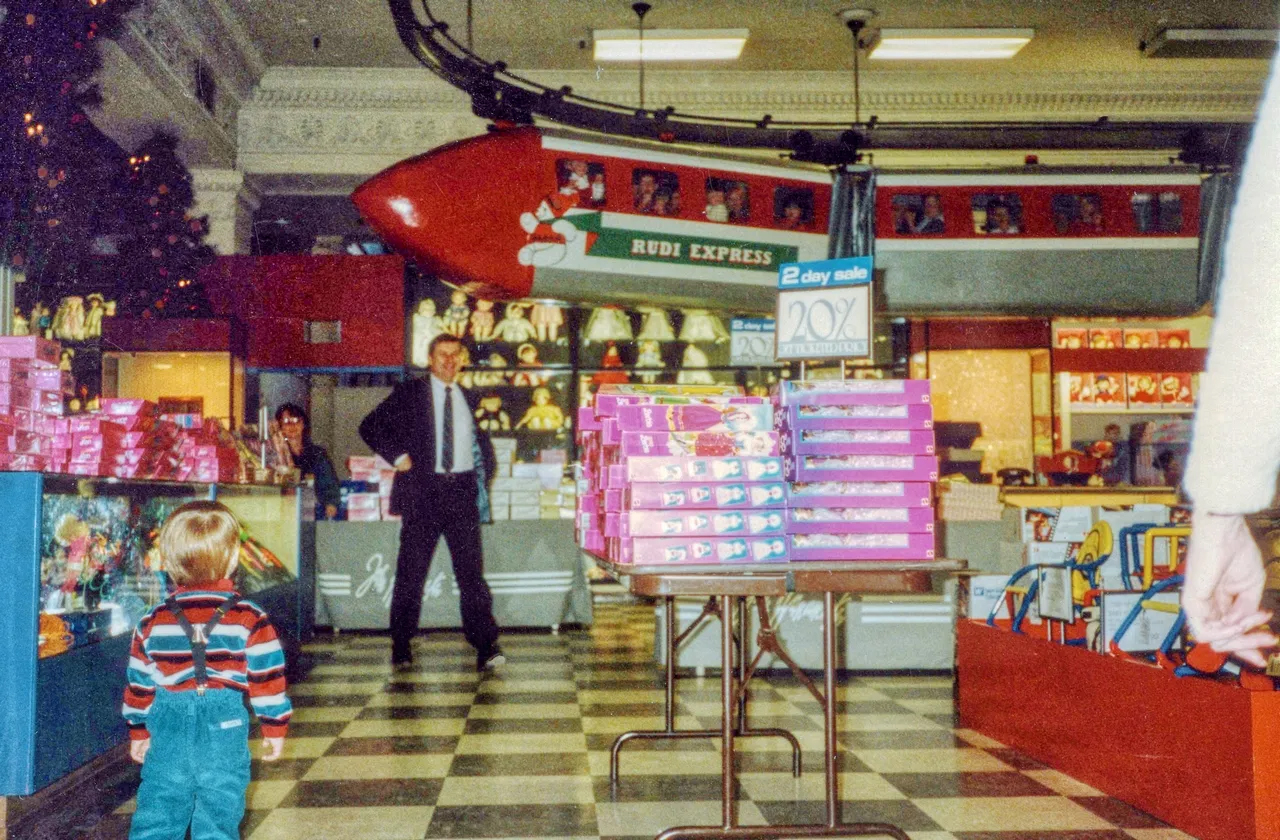 Watch a YouTube video on the Eighth Floor John Wanamaker Toy Department Monorail and other Department Stores with Monorails HERE! 
KEEP SCROLLING DOWN for Exciting Light Show History Features and Photos!


Christmas Eve and New Year's Eve Wanamaker Organ Alert
Christmas Eve day and New Year's Eve day the second of the Wanamaker Organ daily concerts are generally cancelled due to potential curtailed store hours and to accommodate the personal needs of the Organ staff.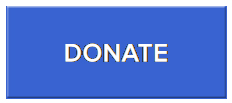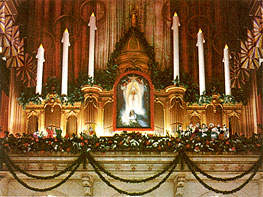 The Store's fabulous light show has always been one of Philadelphia's most hallowed traditions since its inception as fountains with lights in November 1955. This feature spotlights eary Grand Court displays followed by Larry Kerecman's wonderful chronology of how the John Wanamaker Light Show grew year by year. The John Wanamaker Light Show was initiated […]