George Ashdown Audsley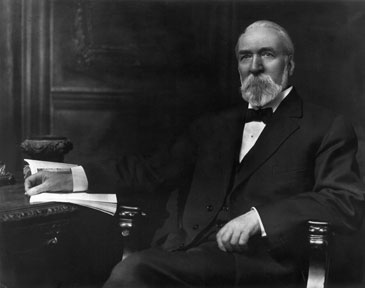 George Ashdown Audsley (1838-1925) was the designer of the 1904 St. Louis World's Fair Organ that forms the nucleus of the present Wanamaker Organ. It began as a scheme for an ideal Grand Concert Organ that was published in his monumental two-volume tome "The Art of Organ-Building" (1905). Audsley insisted that his organs have multiple divisions, each of which could have their volume controlled individually by swell shades—a radical idea that received its ultimate expression and vindication in the present Wanamaker Organ. Dr. Audsley was extraordinarily expert in many fields, including architecture, metalwork, fashion, decoration, Japanese ceramics, pipe-organ design and manuscript illumination.
Volumes could be written on his carefully reasoned and researched views on organ-building, but when it came to the Concert Organ he looked for it to be developed from traditionally conceived choruses of pure organ tone, combined with the color possibilities of stops that were imitative of the tones of the Symphony Orchestra, which he called the "Sun in the Musical Universe." Music was the aim and Dr. Audsley railed against the purveyors of what he called "musical noise," most notably the excesses of Robert Hope-Jones as developed into Hope-Jones' Unit Orchestra. Effects that were so powerful as to detract from the overall musicality of the music being presented drew his particular ire. Dr. Audsley was also careful to detail the many drawbacks of unification, preferring a classic or "straight" application of organ stops to a specific pitch that became the hallmark of the better builders. Audsley principles were carried through throughout the development of the Wanamaker Organ, and were a major factor in its enduring success.
Because tastes in pipe-organ sound change, and because each builder championed his own ideas to the detraction of others, Audsley's work cannot be said to be definitive, but his opinions offer much food for thought and his philosophies and findings are always worth consulting whether or not one agrees with them.
The Friends museum includes an important collection of Audsley memorabilia placed on deposit by descendents Judi Kosco, Holly Audsley-Gyulveszi and Alan K. Audsley. Included are rare photographs and family copies of the illuminated manuscript "The Sermon on the Mount" and "Color and Harmony in Dress."
Among the chief researchers into Dr. Audsley's life is David H. Fox, who has also published a biography of organbuilder Robert Hope-Jones and compiled a major directory of North American organbuilders. The Friends of the Wanamaker Organ website is pleased to host David H. Fox's unpublished biography of Dr. Audsley. Mr. Fox, of course, retains the copyright. Readers with questions or additional information are invited to contact Mr. Fox directly at FOX11354@gmail.com


Please click here for David H. Fox's Audsley biography in .pdf format.