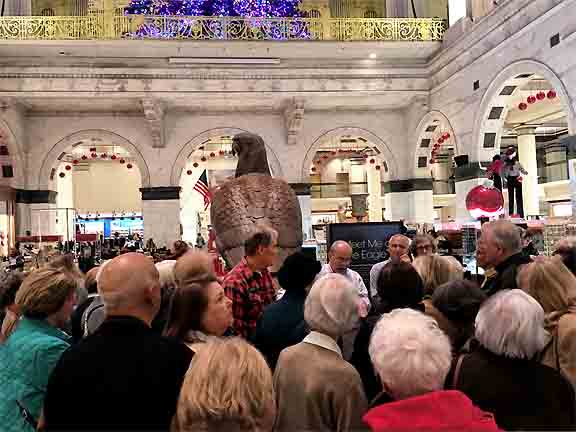 TAKE A TOUR!  Admission to our monthly last-Saturday-of-the-month Organ Tours are available by securing admissioni at our webstore Tour section. Advance notice is no longer required for groups of five or smaller. You may purchase your admissions clicking HERE and meet your tour guide Nik Sizgorich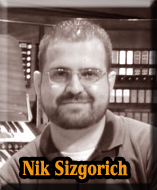 at noon at the Eagle on the designated tour day you select.
After the noon concert is finished, Nik will then take ticket-holders on the tour. 
Included is the Friends Museum, which features first editions from the personal library of organ architect George Ashdown Audsley—all of his own works—placed on deposit with the Friends. The actual Leopold Stokowski 78 rpm record that inspired Virgil Fox to arrange "Come Sweet Death" may be viewed, as may the medal Dr. Audsley received at the 1904 St. Louis World's Fair, and a silver tray given to his father in 1838.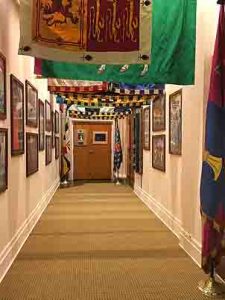 Other exhibits include documents signed by Rodman Wanamaker, and memorabilia pertaining to Wanamaker Organist Keith Chapman and former curators. Our Hall of Flags outside the Orchestral Chamber, pictured at left, includes historic banners and royal standards from the Rodman Wanamaker flag collection.
Several chambers are shown, and also offered is a backstage view of the Organ Case and the "Frosty Central" command center for the Light Show.
BONUS EXTRA: Also note that taking a tour makes a participant eligible to get issues of The Stentor, our quarterly newsletter. If you take a tour and someone else submits their name along with the financial payment, e-mail us with your own information as well.
You can E-mail us about tours and availability at execdirec@wanamakerorgan.com.
PLEASE NOTE THAT ALL THOSE TAKING THE TOUR ARE ORDINARILY EXPECTED TO PRINT AND BRING THEIR RECEIPT, OR BE PREPARED TO SHOW IT ON THEIR CELL PHONE SCREENS. TOURS ARE NOW SOLD ON A MONTH-SPECIFIC BASIS.
In the event that circumstances result in a tour not taking place, the Friends' liability is limited to refunding the ticket cost of that tour.
ALSO NOTE: There are no regular monthly tours in November or December because of the Christmas Light Show.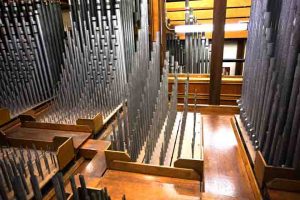 PRIVATE TOURS are available year-round by special appointment when guides are available, but tour-takers may incur a significant extra charge to cover the expenses of a private guide. (We are a small organization and do not have a tour-guide staff on site.) Cost per person is $20. The cost of securing a guide for a private tour depends on what is negotiated with the guide, who is paid his or her fee in person and usually travels into town for the sake of giving the tour.
We are sometimes able to arrange last-minute tours, but please try to give us as much advance notice as possible, but please not more than two months ahead except for very large groups, because our guides don't like to commit that far in advance, particularly during the summer. Once arrangements are made tickets are available at our webstore, by clicking HERE.