Our membership renewal period is still in full swing. We rely on donations from people like yourself who understand the complexity of the Wanamaker Organ and all that is required to keep it playing to accomplish our mission. Increased giving makes us eligible for increased grant amounts. For early birds and those who want to join or renew online, please click on the Membership Renewal box at the top of the page.
We deplete ourselves of funds each year for the cause of the Wanamaker Organ. Please remember that all we do is directly dependent on the generosity and financial investment of our members.
The selection of Premium Gifts includes two Double Premiums found only online…Items M and N (which were available in previous years). Thank you all for your support as we enter our 25th year supporting the Reigning Monarch of All Instruments, with much important work ahead of us!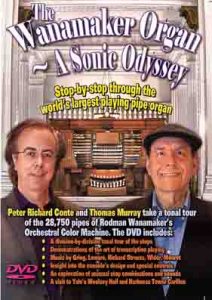 OUR LATEST DVD! Immediate Shipping! Ever wonder what it is like to sit down and play the Wanamaker Organ? Our exciting new DVD, The Wanamaker Organ: A Sonic Odyssey, is now available! Just click on the icon at left to secure your copy.
Peter Richard Conte and Yale organist Thomas Murray go through the Organ's formidable resources in a fascinating, fun, three hour film full of insights from two master musicians. A companion to our Curator's Tour DVD. Orders are being shipped immediately since stock has arrived. An enclosed booklet includes registration and playing insight from Conte, Keith Chapman, Virgil Fox, and more!



Read Peter Dobrin's marvelous tribute to the Wanamaker Organ in the Philadelphia Inquirer HERE. Writes Dobrin: Whatever your taste, this is music of the best sort — music you didn't find, but that found you.
Many first-time visitors ask about whether there is a charge for the daily concerts, or if special preparations are needed. The answer is a simple no. The Wanamaker Organ plays into the huge atrium of a grand department store, and the concerts are a free part of the daily Macy's shopping experience. The regular daily schedule is Here.
Archived streamcasts of the monthly WRTI-FM broadcast are available HERE, and include performances by many guest artists as well as our beloved Peter Richard Conte.
Please consider the Friends in your giving. Each year we start afresh, dependent on your generosity, having depleted the funds of the season before. Thank you for your consideration as we strive to grow our musical mission.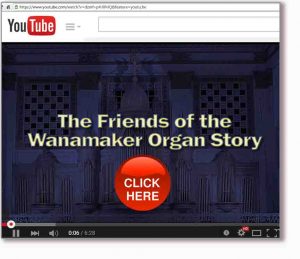 Take a look at the Friends of the Wanamaker Organ film intended as an orientation for store visitors. Linked here is the most recent edit. Macy's has also put it on their official website, accessible HERE.
To play the video, simply click on the illustration at right.
MAKE A TAX DEDUCTIBLE CONTRIBUTION TO THE FRIENDS HERE! OR RENEW YOUR MEMBERSHIP AT THE TOP OF THE PAGE
Peter Richard Conte and flugelhornist Andrew Ennis were interviewed by WRTI's Susan Lewis HERE.
An article on the Rodman Wanamaker flag collection by Karen Chernick of Hidden City is HERE.
The Wanamaker Organ streamcast continues on YesterdayUSA.com in our weekly LIVE broadcasts from the Grand Court each Wednesday at 7 pm Eastern. Bill Bragg hosts!