An instrument of moods, magic and mystique Although the Wanamaker Organ is a wind instrument that produces sound from pipes, church organs are not its closest musical relatives, and this concert organ has more of a kinship with the symphony orchestra. As a result, musicians often discuss this organ in terms usually reserved for the […]
An overview of Wanamaker Organ Commercial Recordings
This section is under development. For a complete product offering please see our Web Store.
DVDS
Around the Wanamaker Organ in 80 Minutes was the Friends' first DVD production, and is the only one to offer a thumbnail history of the Organ together with a chamber tour through images. The production began its life as a PowerPoint presentation put to a talk by the late curator Nelson E. Buechner, and the resulting production held the attention of audiences for prolonged periods of time. Part of its allure is that it is aimed at general audiences.
Musical Samples in MP3 Format

This page is still under construction. Please note that much Wanamaker Organ material is available on YouTube, something not envisioned when this page was first developed. 
Harmonious Blacksmith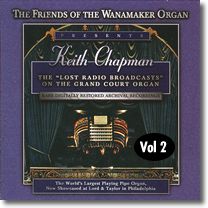 Introduction
Loure
Chorale No. 3 in A
Prelude & Fugue in G