Directions to Macy's
Center City Philadelphia

John Wanamaker Building
13th and Market Streets – Philadelphia PA
Macy's General Phone No.: (215) 241-9000

Here is a simplified driving map that may be printed after clicking on the image.  Please note that it is not oriented North-South. Please note that there is parking in the John Wanamaker Building and also in many lots nearby. Visitors who pre-plan might benefit by going to Google Maps, then Satellite View, then dragging the "Little Man" to a street near the Store. In that way it is possible to do a virtual "drive around the block" and thereby familiarize oneself with the neighborhood, entrances to parking garages, one-way streets, etc.
The traffic light at South Broad and City Hall has a red light camera, so please be extra-observant there.
In 2019 the Chestnut Street Bridge across the Schuylkill River closed for repair, but the Market Street Bridge may be used.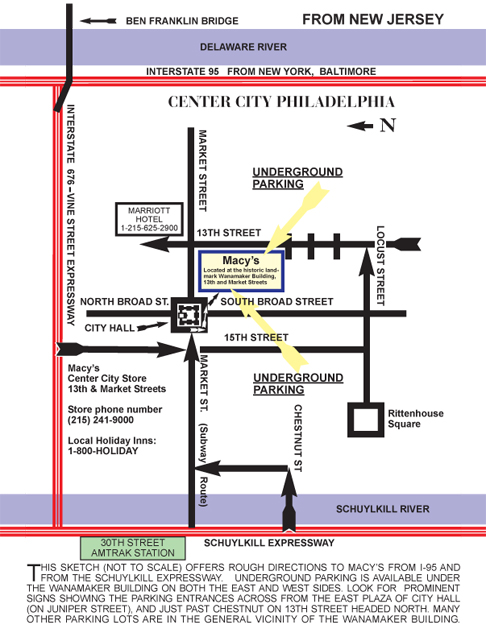 If you call Macy's (215) 241-9000 please be aware that many phone calls are answered by a call center in a distant city. Those with specific questions should ask the operator for the Executive Offices. Press Inquiries are done through Macy's Public Relations Department in New York City.