Wanamaker Store "Firsts"
1861 Wanamaker's became the first store to guarantee the quality of its merchandise in print.

1865 Wanamaker's became the first store to have a guaranteed refund policy.

The Grand Depot

1876 Moody and Sankey revival meeting held in future home of the Grand Depot.

1876 Wanamaker's installs an organ in its Grand Depot—the first of several. Frank Taft becomes the first organist to play recitals in a department store.

1876 Wanamaker's opened the first public restaurant in a department store.

1876 Buyers first sent abroad to study foreign stocks and "skim the cream."

1878 Wanamaker's became the first department store to be illuminated by electricity.

1879 Bell telephone first used in a store.

1879 First full-page newspaper advertisement.

1880 First pneumatic tubes installed as cash carriers.

1881 Paris Office Opens.

1882 Elevators first installed.

1885 First Million Dollar Sale.

1896 John Wanamaker Commercial Institute established for young employees.

1899 Pianos sold at the then-revolutionary fixed-price system.

1902 Women's League organized by female employees for mutual improvement.

1903 Radium first exhibited in the United States.

1905 24-hour telephone service initiated.

1908 Motion pictures of Rodman Wanamaker Indian Expeditions Shown.

1910 Motion pictures of funeral of Edward VII first shown in America.

1910 Store taxicab system launched.

1911 Largest organ in the world from St. Louis World's Fair inaugurated in the Grand Court. Building dedicated December 30 by President William H. Taft. Regular daily organ concerts begin in what is an unbroken tradition.

1912 Wanamaker's, the first store in the Nation to have a wireless, received news of the sinking of the Titanic.

1914 Saturdays in July and August designated as full employee holidays with full pay.

1915 Athletic field opened on the roof of the Philadelphia store.

1916 New store medical offices opened with free care to employees.

1916 The Downstairs Store (bargain basement) begun.

1919 First Wanamaker Musicians' Assembly with the Grand Organ and Philadelphia Orchestra under Leopold Stokowski attracts a crowd of 15,000 music lovers.

1922 Organ concerts broadcast for the first time on Wanamaker station WOO. Listeners-in write from Europe, Africa, Australia, Hudson's Bay and elsewhere.

1948 First televised production of Wagner's "Parsifal" in the Grand Court, with the Philadelphia Orchestra.

1956 Premiere of the store Christmas Light Show, developed and continued today by Macy's.

1980 The Wanamaker Organ becomes the first pipe organ to be designated a National Historic Landmark.

2006 Fireworks used inside a store for the first time as Macy's commences

operations with a Grand Court spectacular and outdoor parade of giant balloons.

2007 Macy's flies parade balloons inside a store for the first time in its history.

2008 Macy's is the first store to celebrate a major anniversary with an organ and orchestra concert, which featured the Wanamaker Organ with the Philadelphia Orchestra.

2011 Macy's becomes the first store to begin regular streamcasting of live concerts.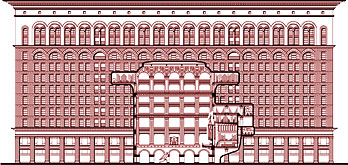 Wanamaker Building Dimensions
480′ by 250′ by 247′ high
Grand Court Dimensions
112′ long by 64′ wide by 149′ high