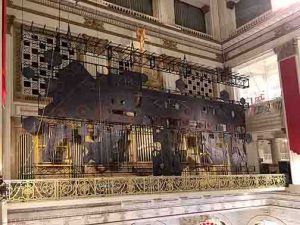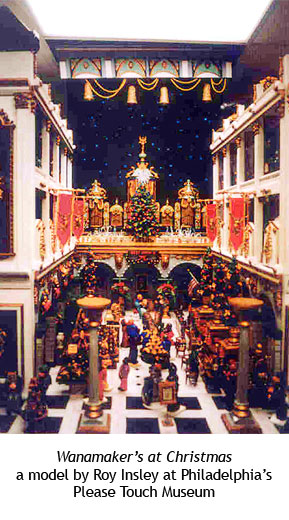 As far as the Wanamaker Organ was concerned, the main problem with past Christmas shows was that the instrument was covered by a huge theater curtain, muffling the Organ's sound and robbing the hall of reverberation. Until the Grand Court was repainted for the American Bicentennial in 1976, this sound-deadening continued throughout the year as plush curtains hid side-wall seasonal tableaux of the Nativity and blanketed the towering Christmas Cathedral opposite the Organ. Those features were permanently removed about 1975.
Recently the organ case itself has been left uncovered, with the Magic Christmas Tree standing before it. Spotlights now illuminate the case in brilliant shifting holiday colors and patterns. Much of this re-design was spearheaded by Wanamaker Organ curator Curt Mangel. By placing the Organ in the forefront of the show, Curt allowed the Reigning Monarch of All Instruments to weave its spell in special productions that join the Tree and organ with imaginative lighting effects as Peter Richard Conte plays festive Yuletide music. The result is a popular sensation that rivals those in other cities, including the New York Radio City show and the great Rockefeller Plaza Christmas Tree.
The Macy's Parade Studio redesign has also helped lessen the common retail criticism that Christmas comes earlier each year, because the show is able to be put up much more quickly. In days of yore the curtain was installed in late September and removed by early February after the last characters had been removed.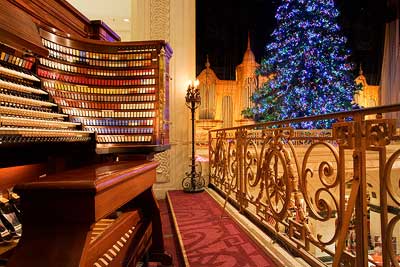 Each character was individually hoisted and connected. Because of its complexity, the Wanamaker show took the efforts of at least three men to install it. The prolonged after-hours schedule was partly due to its being done as overtime after employees' daily shift, and also for the safety of customers. Al Goessler of the Wanamaker staff supervised the work and the show's operation. Just hauling up Santa's train to the very top of the Court could take from closing 'til opening the following morning.
The Show itself was computerized in the 1970s but nonetheless required two operators to run it. Since the Macy's rebuild, the show is entirely automated. Macy's installed winches in the ceiling and began hanging the lighted figures on horizontal trusses that can easily be raised as a unit, enabling sections to be set up and removed in considerably less time.