Daily Guided Historic Store Tour
Discover the magic of Macy's Center City Philadelphia, with highlights including the breathtaking Wanamaker Building, Wanamaker Grand Court Organ and Grand Court Eagle. Plus, learn how Macy's has grown into America's largest department store with 800+ locations and over 100 years of retailing history. Tours can be customized to focus on architecture, merchandising, marketing or fashion. All participants receive a Macy's Visitor Savings Pass. Tours last approximately 45 minutes and must be scheduled in advance. For more information or to book a tour, contact Macy's Center City Visitor Center at 215-241-9000 ext. 2408.
Folks who identify themselves as Wanamaker Organ tourists at the Visitors' Center and come from a distance away are entitled to a Macy's Savings Pass, so be sure to ask about that as well!
Incidentally, there is no sales tax on most clothing purchases in Pennsylvania! Jennie Funches (pictured) is your host.
Keep up with all the restoration news in the Friends' newsletter The Stentor. Four issues come with your membership, and are packed with restoration and concert news with historical insights and letters from other members.
Please consider making a contribution here. A prospectus on the fund is available here.We are counting on this fund to create quality presentations for many years to come as we help secure the Wanamaker Organ's place in musical life in the years ahead.

The icon above takes you to a page with interactive links to media stories on the Wanamaker Organ, including a recent Pipedreams with highlights from Wanamaker Organ Day, a fascinating interview with our carpenter Scott Kip, and a superb Bob Krist National Geographic short film on "The Voice of Philadelphia."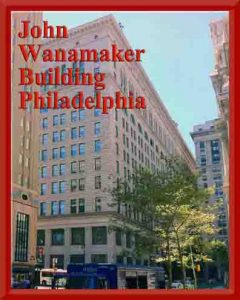 Hearing Philadelphia's Wanamaker Organ is a life-changing experience. Our society is sponsored by people around the world who are helping protect the world's largest playing pipe organ. We invite you to join the Friends and receive four issues of our 16-page newsletter and member-access to all Friends activities.
The Wanamaker Organ is undergoing a multi-year restoration. Divisions that have been patched together are getting a thorough restoration. Members help sustain this crucial work and our music, education and hospitality programs.
Members receive all the details on the restoration and Friends concerts, as well as news of private concerts, tours, and fund-raisers, in our acclaimed quarterly newsletter, The Stentor.
Macy's and the Wanamaker Organ are located at the Wanamaker Building at 13th and Market Streets in Center City Philadelphia, PA, next to City Hall.
Macy's is easily accessible by SEPTA (www.septa.org), PATCO www.ridepatco.org), and NJT (www.njtransit.com) bus and rail lines to Center City, Philadelphia.
This website was made possible by people just like you who love the Wanamaker Organ and want to share that joy. Please look through our website menus for answers to all common questions about making your visit to our Philadelphia wonder thoroughly enjoyable.


IMPORTANT: Are you using a mobile device for turn-by-turn directions to the Store? Please enter 1300 Market Street, Philadelphia, PA 19107 to reach Macy's and the Wanamaker Organ. Please do NOT enter the Friends' business address below.