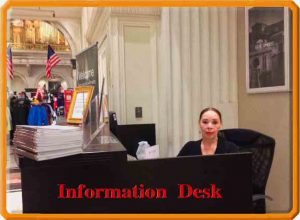 MACY's INFORMATION DESK:
Information on the Wanamaker Organ and the historic Store is available at the MACY's INFORMATION DESK on the Main Floor of the Center City Macy's Men's Department. At the present time, the desk is offering for sale a selection of organ CDs, DVDs and Books. All proceeds directly benefit the Friends of the Wanamaker Organ!
You will find the desk along the right side of the center aisle just as you enter the Grand Court.
The desk is generally staffed from 11 am to 6 pm, Monday through Friday, and Saturday from noon to 5pm. (Please remember that the Wanamaker Organ does not play on Sundays.) The staff prides itself on its knowledge of the Store and its heritage. Macy's has also been offering historic tours of the Wanamaker Building. Please consult the information below and contact Macy's to see if this offering is still available at the time of your visit.