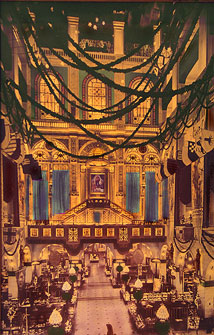 The Store's famous light show has always been one of Philadelphia's most hallowed traditions since its inception in November 1955. It was devised by Frederick Yost, a Yale University theatre-lighting graduate who came to John Wanamaker and pioneered many of the beautiful Grand Court displays that kept the store in the forefront of retailing.
Yost was following a long tradition. Previous years, stretching back to the era of John and Rodman Wanamaker, featured grandiose Christmas and Easter displays that ran the full height of the Grand Court. Stage-carpentry schemes right out of Hollywood covered the Wanamaker Organ wall with staircases, balconies, draperies, "stained glass," greenery, paintings and rich tapestries. By the time of World War II a relative austerity set in. The exposed organ case was backed by colored curtains and giant lit candles were placed atop it. The Enchanted Fountains were added, dancing to music.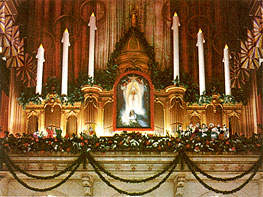 By the 1950s Baby Boomers were poised to fall in love with the Organ and Christmas decorations. Yost took the show in a new direction by draping the Organ entirely in blue-green curtains that conformed to the curves of the case, and by adding the Magic Christmas Tree to the fountain display. Like the fountains, the huge tree could be lit in any color or mix of colors, and could even be lit in different colors in thirds from the top down. The trunk of the tree, actually a huge electrical strip with color-coded plugs, was held up by girders inside the central tower of the organ's pipe screen and by a boom reaching over the Herald Angel, and the front pipes were removed to secure the tree. Between shows, the tree patterns changed at random during the shopping day. Large golden bells hung in an arc around the tree.
Mirror balls were used to create artificial snowflakes. Reportedly at one time water was also directed out of the balcony and into a main-floor receptacle, but this feature literally dampened customers' spirits.