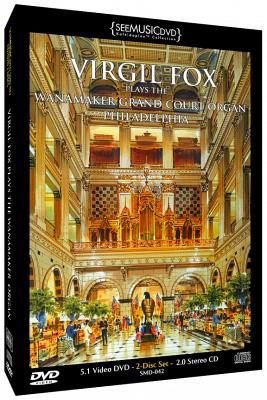 Heavy Organ

$19.95





Tape kept in the vaults of the Wanamaker Store is newly digitized, with a DVD featuring the same music content as the CD—in 5.1 surround sound—plus the Kaleidoplex Digital Light Organ and two bonus videos: CBS-TV's "La Belle Epoque" (30 min.), and a 1980 Fox Evening Magazine interview and mini-recital at the Wanamaker console.

Each unit contains two discs (a CD and a DVD) and a deluxe illustrated booklet. Hear the recording that was voted one of the 100 best records of the century by Stereo Review during the centennial year of Edison's phonograph.

Played on the Wanamaker Organ:

WAGNER: Fanfares from Parsifal
VIERNE: Carillon de Westminster
BACH / FOX: Come Sweet Death
MULET: Thou Art the Rock (Tu es Petra)
ELGAR: Pomp and Circumstance March No. 1
FAURè: Nocturne from Shylock
WAGNER: Liebestod from Tristan und Isolde

The CBS Camera Three program, which is titled La Belle Epoque, was performed in a TV studio on Fox's touring organ. Fox plays:

HARRY ROWE SHELLEY: Fanfare
GUILMANT: Marche Religieuse
IVES: Variations on America
ELGAR: Pomp and Circumstance March No. 1

The 11-minute TV interview was shot at the Wanamaker Organ in 1980 by Group W's Evening Magazine syndicated TV series in Philadelphia. Performance clips include Dr. Fox playing excerpts from Bach's Toccata and Fugue in D Minor and the Gigue Fugue. Russ Stanton is the host.