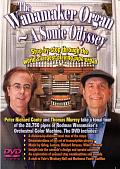 The Wanamaker Organ: A Sonic Odyssey
Exciting New DVD!
Join Thomas Murray and Peter Richard Conte for this thrilling stop-by-stop Tonal Tour through all the Wanamaker Organ resources! Includes repertoire performances, segments on the Art of Transcription Playing, registration secrets, and a visit with Murray at Yale's Woolsey Hall organ. A Must Have for folk who want to experience all the wonderful sounds the Wanamaker is capable of! Read on....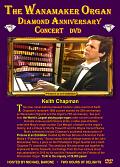 Wanamaker Organ Diamond Anniversary Concert DVD
Keith Chapman in concert
This recently released historic video record of Keith Chapman's landmark 1986 concert includes a pipe-chamber crawl with Curt Mangel and a history feature. The full concert includes Chapman's acclaimed Pictures at an Exhibition. Read on....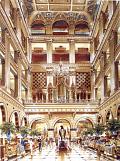 William Ressler Watercolor Fine Arts Print 18" x 13"
William C. Ressler, A.S.C., has portrayed the Grand Court, the Eagle and The Reigning Monarch of All Instruments in vivid watercolor as part of his acclaimed "Inside Philadelphia" series. Bring the splendor of the Grand Court into your home and support the Friends of the Wanamaker Organ! Read on....