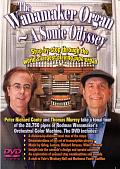 The Wanamaker Organ: A Sonic Odyssey
Exciting New DVD!
Join Thomas Murray and Peter Richard Conte for this thrilling stop-by-stop Tonal Tour through all the Wanamaker Organ resources! Includes repertoire performances, segments on the Art of Transcription Playing, registration secrets, and a visit with Murray at Yale's Woolsey Hall organ. A Must Have for folk who want to experience all the wonderful sounds the Wanamaker is capable of! Read on....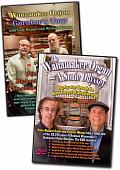 Tonal and Curators Tour Combo!
Special Discount Offer!
Get both the Wanamaker Organ Curator's Tour and our Sonic Odyssey Tonal Tour for one discounted price! Join Curt Mangel, NPR's Michael Barone and organists Peter Richard Conte and Thomas Murray for two very special video tours of the Wanamaker Organ's formidable sonic resources! Read on....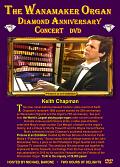 Wanamaker Organ Diamond Anniversary Concert DVD
Keith Chapman in concert
This recently released historic video record of Keith Chapman's landmark 1986 concert includes a pipe-chamber crawl with Curt Mangel and a history feature. The full concert includes Chapman's acclaimed Pictures at an Exhibition. Read on....